Epocrates Essentials for BlackBerry
Overview
Drug Information
Drug Interactions
Pill ID
Tables/Calcs
Disease Information
Diagnostic/Lab Tests
Requirements
View the demo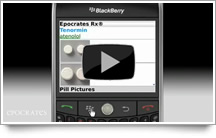 Our most popular premium clinical software suite, Epocrates® Essentials, is now available for the BlackBerry®. Trusted clinical content and features include:
Reliable information for thousands of disease topics
Lab prep, interpretation, and follow-up
Safety information for Rx, OTCs, and alternative medicines
Specific/empiric treatments for hundreds of infectious diseases
View this demo by Dr. Hanh Le and see how the new Epocrates Essentials suite for BlackBerry supports a patient's consultation from diagnosis to treatment.
Customer Testimonials
Quick and straightforward access to the drug and lab information I need at the point of care.
Epocrates Essentials is the standard with which I compare all other portable clinical references. (and I have looked at many) I keep coming back to Epocrates.
- Robert Erickson, Respiratory Therapist
I use the drug data base several times a day. My patients are diverse and may come to my setting (VA) with multiple medications from outside sources that I am less familiar with. I also use the disease and lab values but less frequently. I do use the interaction checker quite a bit.
- Rob Richardson, Pharmacist - Community